Degree Type
Bachelor of Science
About
When you understand how people interact, you can do more to bring about social and structural change.
Introduction
While psychology studies the mind and individual behavior, sociology is the study of society and human behavior. Humans are social beings, and sociology looks for patterns in our relationships, how we interact with others around us, and the cultures these relationships and interactions create. Sociology is a field with broad potential, especially for those interested in helping and working with people.
You can choose to major or minor in Sociology.
Learn how to:
Apply knowledge of methods, vocabulary, and concepts of sociology
Use technology to access, capture, analyze, and report social science data and literature
Understand and apply social science research methods to social issues and policy discussions
Critically analyze urban issues within larger historical and global contexts
Demonstrate and apply knowledge and skills to research and community engagement efforts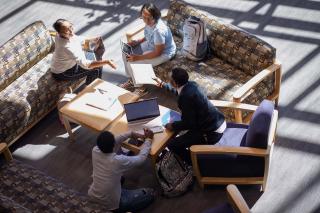 750+ Course Options
The Coppin State University Academic Catalog has a wide variety of skill-building courses designed to inspire and prepare you to be in-demand professionals and transformational leaders.
Our sociology degree provides classroom and practical experience that prepares students to conduct cultural analysis and enrichment, and succeed in graduate and professional programs, as well as a variety of careers. Graduates have gone on to pursue public and private sector internship and professional opportunities in healthcare, law, education, corrections and law enforcement, and social services.
Not only does our sociology program provide specific and unique approaches to understand urban environments and cultures, it also serves as a bridge between our university mission to understand, preserve, and promote African-American culture.
There is more information about major requirements in the Program Requirements section on this page.
Program Requirements
To graduate with a Bachelor of Science in Sociology, students must complete 120 credit hours. These credit hours split between General Education Requirements (GERs), foundation and core courses, as well as electives. Each section below explains the range of course offerings.
Core Courses (39 credits)
Course
Credits
Name
ANTH 207
3
Cultural Anthropology
SOCI 201
3
Introduction to Sociology
SOCI 205
3
Class and Society
SOCI 302
3
Social Psychology
SOCI 303
3
Sociological Theory I
SOCI 402
3
Family Studies
SOCI 403
3
Race and Ethnicity
SOCI 406
3
Sociology of the City

SOCI 409

or

SOCI 410

3

 

3

Sociology – Internship 

or

Research Paper

SOSC 310
3
Statistics
SOSC 407
3
Social Research Methods
SOSC 430
3
Social Science Applications
Program Electives
| Course | Credits | Name |
| --- | --- | --- |
| SOCI 300 | 3 | Sociology of Religion |
| SOCI 301 | 3 | Community Organization |
| SOCI 304 | 3 | Sociology Theory II |
| SOCI 306 | 3 | Sociology of Sport |
| SOCI 405 | 3 | Criminology |
| SOCI 411 | 3 | Sociology–Special Topics |
| SOSC 410 | 3 | Statistical Analysis |
Sample Degree Plan
This plan is only for example purposes. Your academic journey may be slightly different from another student's journey, so be sure to always communicate with your academic advisor before finalizing your course schedule.
Fall Semester (16 credits)
| Course | credits | name |
| --- | --- | --- |
| ENGL 101 | 3 | English Composition I |
| SOCI 201 | 3 | Introduction to Sociology |
| MATH 125 | 3 | Math for Liberal Arts |
| ORIE 101 | 1 | Freshman Seminar |
| HIST 205 | 3 | African American History I |
| IDIS 102 | 3 | Music and Dance |
Spring Semester (15 credits)
| course | credits | name |
| --- | --- | --- |
| ENGL 102 | 3 | English Composition II |
| PHSC 103 | 3 | Technology and Human Affairs |
| SPCH 105 | 3 | Speech |
| MISY 150 | 3 | Technology Fluency |
| HIST 206 | 3 | African-American History II |
Fall Semester (16 credits)
| Course | credits | name |
| --- | --- | --- |
| ECON 201 | 3 | Introduction to Economics |
| PHIL 102 | 3 | Logic |
| WLIT 207 | 3 | World Literature |
| BIOL 101 | 4 | Biological Sciences |
| SOCI 205 | 3 | Class and Society |
Spring Semester (15 credits)
| Course | credits | name |
| --- | --- | --- |
| SOCI 302 | 3 | Social Psychology |
| SOCI 407 | 3 | Social Research |
| SOCI xxx | 3 | Program Elective |
| XXXX xxx | 3 | General Elective |
| XXXX xxx | 3 | General Elective |
Fall Semester (15 credits)
| Course | credits | name |
| --- | --- | --- |
| SOSC 310 | 3 | Introduction to Basic Statistics |
| SOCI 402 | 3 | Family Studies  |
| SOCI 409 | 3 | Internship |
| XXXX xxx | 3 | General Elective |
| XXXX xxx | 3 | General Elective |
Spring Semester (15 credits)
| Course | credits | name |
| --- | --- | --- |
| SOCI 303 | 3 | Sociological Theory |
| SOCI 403 | 3 | Race and Ethnicity |
| XXXX xxx | 3 | General Elective |
| XXXX xxx | 3 | General Elective |
| XXXX xxx | 3 | General Elective |
Fall Semester (15 credits)
| Course | credits | name |
| --- | --- | --- |
| SOCI 406 | 3 | Sociology of the City |
| HEED 420 | 3 | Community Health |
| XXXX xxx | 3 | General Elective |
| XXXX xxx | 3 | General Elective |
| XXXX xxx | 3 | General Elective |
Spring Semester (15 credits)
| Course | Credits | Name |
| --- | --- | --- |
| URST 401 | 3 | Internship |
| SOSC430 | 3 | Social Science Applications |
| XXXX xxx | 3 | General Elective |
| XXXX xxx | 3 | General Elective |
| XXXX xxx | 3 | General Elective |