Interdisciplinary Studies
Degree Type
Bachelor of Science
About
Choose your own academic adventure, and see where your interests can take you.
Introduction
Interested in how we can design cities that nurture cultures and communities? Think about urban studies and sociology! Want to understand how to create targeted marketing campaigns based on what motivates people to make purchases? Try marketing and psychology! What if you're interested in approaching criminal justice reform through technology and data analysis? Try management information systems and political science or criminal justice!
There are numerous possibles for you to be the connection between 2 or 3 of your areas of interest—and the added benefit of an interdisciplinary studies program? You'll learn to think critically, analyze creatively, and communicate effectively in ways where you feel empowered to forge your own professional path.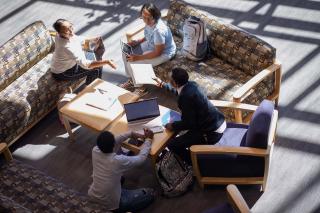 750+ Course Options
The Coppin State University Academic Catalog has a wide variety of skill-building courses designed to inspire and prepare you to be in-demand professionals and transformational leaders.
Majoring in Interdisciplinary Studies allows you to create an individualized program that bridges 2 or 3 academic areas. Choosing rigorous courses from different disciplines, you are able to focus on tour unique and professional goals.
Throughout your coursework, you'll create a portfolio that includes a self-assessment on progress toward your career goals, and an evaluation of any relevant educational and learning activities.
There is more information about major requirements in the Program Requirements section on this page.
Your Steps to Become an Interdisciplinary Studies Major
Because the interdisciplinary studies program doesn't have a set curriculum, interested students must work to create their own! Here are a few steps to keep in mind as you think about building your program:
Prepare to talk with the Interdisciplinary Studies coordinator about the disciplines you want to be your concentrations.
Schedule a conversation with the coordinator to review your courses and course availability. Note: The coordinator also serves as your faculty advisor.
Start nurturing relationships with faculty in your desired concentration areas
Program Requirements
The interdisciplinary studies program is a unique opportunity for students to customize an academic program that focuses on 2 or 3 different disciplines (i.e. dance, history, chemistry, etc.). Students combine coursework from each discipline, and while also completing General Education Requirements (GERs) and department courses.
To graduate with a Bachelor of Science in Interdisciplinary Studies, students must complete 120 credit hours. These credit hours split among:
General Education Requirements (GERs)
Credits from 2 or 3 different disciplines(i.e. biology, dance, accounting, computer science, etc.)
Interdisciplinary Studies
Electives
Each chart in this section explains course requirements and the range of course offerings.
Interdisciplinary Studies Courses (13 credits)
| Course | Credits | Name |
| --- | --- | --- |
| IDST 201 | 3 | Foundations of Interdisciplinary Studies |
| IDST 301 | 3 | Human Inquiry |
| IDST 401 | 4 | Internship |
| IDST 499 | 3 | Capstone Seminar |
Sample Degree Plan
This plan is only for example purposes. Your academic journey may be slightly different from another student's journey, so be sure to always communicate with your academic advisor before finalizing your course schedule.
Fall Semester
| Course | name |
| --- | --- |
| ENGL 101 | English Composition I |
| PSYC 201 | General Psychology |
| MATH 125 | Math for Liberal Arts |
| ORIE 101 | Freshman Seminar |
| PHIL 103 | Introduction to Philosophy |
| IDIS 103 | Visual Arts and Theatre |
Spring Semester
| course | name |
| --- | --- |
| ENGL 102 | English Composition II |
| PHSC 101 | Physical Science |
| HEED 101 | Personal Health |
| MISY 150 | Technology Fluency |
| HIST 205 | African-American History I |
Fall Semester
| Course | name |
| --- | --- |
| HIST 206 | African American History II |
| SOCI 201 | Introduction to Sociology |
| WLIT 207 | World Literature |
| BIOL 101 | Biological Sciences |
| IDIS 201 | Foundations of Interdisciplinary Studies |
Spring Semester
| Course | name |
| --- | --- |
| IDIS 301 | Human Inquiry |
| Concentration I | Course 1 |
| Concentration I | Course 2 |
| Concentration I | Course 3 |
| Concentration I | Course 4 |
Fall Semester
| Course | name |
| --- | --- |
| Concentration I | Course 5 |
| Concentration I | Course 6 |
| Concentration II | Course 1 |
| Concentration II | Course 2 |
| Concentration II | Course 3 |
Spring Semester
| Course | name |
| --- | --- |
| Concentration II | Course 4 |
| Concentration II  | Course 5 |
| Concentration II | Course 6 |
| XXXX xxx | General Elective |
| XXXX xxx | General Elective |
Fall Semester
| Course | credits | name |
| --- | --- | --- |
| IDST 401 | 3 | Internship |
| XXXX xxx | 3 | Internship I |
| XXXX xxx | 3 | General Elective |
| XXXX xxx | 3 | General Elective |
| XXXX xxx | 3 | General Elective |
Spring Semester
| Course | Credits | Name |
| --- | --- | --- |
| IDST 499 | 3 | Capstone Seminar |
| XXXX xxx | 3 | General Elective |
| XXXX xxx | 3 | General Elective |
| XXXX xxx | 3 | General Elective |
| XXXX xxx | 3 | General Elective |