Job Development and Job Placement Services
Degree Type
Graduate Certificate
About
Make a career of helping people find and keep jobs. When you connect employers and qualified candidates, everybody wins.
Introduction
Finding a job—and for some, keeping a job—can feel overwhelming. Not everyone has the skills to be successful on their own. Employers also must devote time and resources to find that perfect employee fit. This certificate helps to bridge that gap.
Our curriculum introduces students to strategic thinking and process around job development, as well as placement services for both employers and job seekers. You'll also learn training techniques designed to increase employment outcomes and job retention, especially for persons with disabilities. Coursework emphasizes technology in the workplace and special services for individuals who are blind or have vision impairments, and individuals who are Deaf or hard of hearing.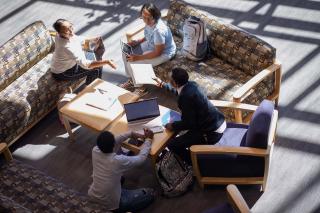 750+ Course Options
The Coppin State University Academic Catalog has a wide variety of skill-building courses designed to inspire and prepare you to be in-demand professionals and transformational leaders.
Certificate Requirements
To graduate with an graduate Certificate in Job Development and Placement Services, students must complete 18 total credit hours inclusive of a 3 credit internship:
Certificate Courses (15 credits)
| Course | Credits | Name |
| --- | --- | --- |
| REHB 513 | 3 | Introduction to Rehabilitation |
| REHB 521 | 3 | Seminar in Occupational Information and Rehabilitation Placement |
| REHB 507 | 3 | Introduction to Assistive Technology |
| REHB 526  | 3 | Internship I |
| PSYC 613 | 3 | Career Development and Occupational Choice |
Related Programs
Rehabilitation Counseling
Vocational Evaluation and Work Adjustment
Counselor Certification and Licensure