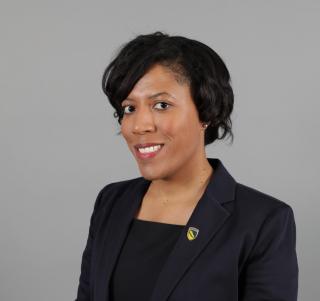 Can help with
Media Relations
Communications
Public Relations
Job Title
Director of Communications
Location
Parlett L. Moore Library
2nd Floor
2500 W North Ave
Baltimore, MD 21216

Bio
Robyne McCullough is joining Coppin State University as Director of Communications. A native of Baltimore, she has an established career in journalism, government, and communications. Robyne joins Coppin State University after several years as a Communications Advisor with the Hogan-Rutherford administration. She previously worked as a television news producer for WBOC-TV in Salisbury, MD, and WBAL-TV in Baltimore. 
Robyne is looking forward to showcasing the transformative educational initiatives, research, and thought leadership at Coppin State University; as well as fostering new and existing connections between Coppin State and the greater Baltimore community.
Robyne earned her Bachelor of Arts in Journalism and Master of Business Administration from the University of Maryland, College Park. 
Robyne is a life-long fan of the Baltimore Orioles and Baltimore Ravens. She also enjoys volunteering with local organizations and mentoring young people in her spare time.
Professional Activities
Public Relations Society of America
Expertise and Research Interests
Media and Public Relations, Communications Strategy