New Student Orientation
Welcome Week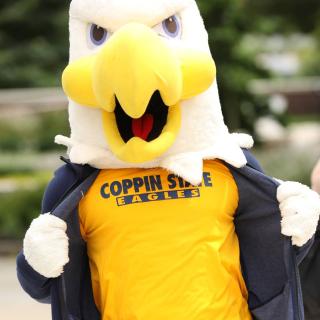 Welcome to the Eagle Nation 2021!
We are excited that you chose Coppin State University and can't wait to meet you in-person. Eagle nation 2021 is all about, meeting new people, building relationships, helping you to feel more comfortable, and having fun as you start your educational journey at Coppin State University. All events are free to new students. Registration is required.
New Student Welcome Week Events
Take a look at what's in store for welcome week!
Sunday brunch with the first family
Enjoy a selection of brunch favorites while getting to know CSU's First Family. Immediately following the event join us for the class of 2025 photo with the President!
Sunday, August 22
11:00 a.m. – 1:00 p.m.
Tawes Center Ballroom
Eagle pride & traditions
Join in, have fun, and learn CSU cheers, chants and traditions so that you'll be ready for your first campus game or event.
Tuesday, August 24
1:00 p.m. – 3:00 p.m.  
Tawes Center Ballroom
Life hacks to the eagle nation
Sample refreshments while getting to know your first-year advisors and learn what it takes to soar like an eagle! Also receive some cool giveaways.
Wednesday, August 25
3:00 p.m. – 4:00 p.m.
Tawes Center Ballroom
Eagles in action
Show your school spirit in this blue and gold-filled event that will keep you on your feet and cheering. Also learn about campus recreation, club sports, wellness, and our new gaming & esports community.
Thursday, August 26
6:00 p.m. – 8:00 p.m.
Physical Education Complex Campus Rec Entrance
Eagles at Six Flags New Jersey
Join us for a day of fun at Six Flags New Jersey amusement park.
Friday, August 27
9:00 a.m.
Buses will depart promptly from Lot F