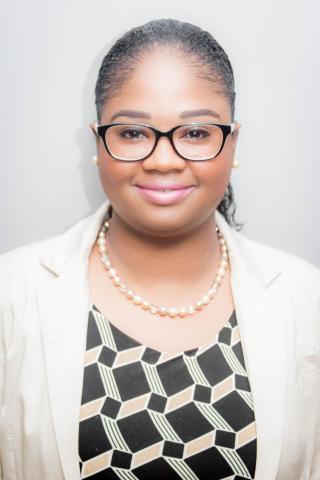 Job Title
Assistant Professor
Location
Health and Human Services Building
1st Floor, Room 125E
2500 W North Ave
Baltimore, MD 21216

Bio
Cataria Davis, PhD, MPH, MS, CHES is an assistant professor and director of clinical affairs in the School of Allied Health at Coppin State University.  She received her doctorate degree from Southern Illinois University where her major area of study was public health education and secondary studies in Geographic Information System with an emphasis in spatial epidemiology.  Her research focuses are using GIS to assess food safety and foodborne illness, occupational injuries of food workers, and using GIS to assess vulnerable opioid communities.  Dr. Davis works with several organizations conducting program evaluations and food safety assessments as part of public health practice in her discipline.  Dr. Davis also maintains several food safety related certifications, as well as CHES (certified health education specialist).  She serves in several leadership capacities, including serving as a board member for a non-profit organization in East Baltimore and serving as section councilor for the occupational health and safety section in the American Public Health Association.
Publications
Rose, D. M., McDaniel, J., & Davis, C. (2018). Knowledge, attitudes, and the perception of health responsibility regarding the HPV Vaccine among students. Health Education Monograph Series, 35(1), 23-28. 
McDaniel, J., Diehr, A. J., Davis, C., Kil N., & Thomas, K. H. (2017). Breast cancer screening and outcomes: An ecological study of county-level female veteran population density and social vulnerability. Journal of Military, Veteran, and Family Health, 4(1), 51-59.
Leadership Roles
Director of Clinical Affairs
Education
PhD, Public Health Education and GIS (Geographic Information System), Southern Illinois University, 2019
MPH, Public Health Prevention and Managment, Morgan State University, 2013
MS, Community Health Education, University of Arkansas, 2011
BS, Biology, Alabama A&M University, 2008
Professional Activities
Professional Activities
BMore4Kidz (Board Member)
Professional Memberships
APHA (American Public Health Association)
GAIN (German Academic International Network)
SOPHE (Society of Public Health Educators)
NCHEC (National Commission for Health Education Credentialing )
ESG (Eta Sigma Gamma)
Expertise and Research Interests
Expertise
Program Planning, Program Evaluation, Needs Assessments, Food Safety Assessments, Occupational Hazard Assessment, Risk Assessments, GIS Mapping, and Spatial Analysis
Research
Using the Social Cognitive Theory and GIS to Plan Nutrition Education Programs for Opioid Users
Assessing Food Safety Readiness Among Older Adults in Rural Illinois
Using the Health Belief Model to Assess the Health Seeking Behaviors Associated with COVID-19 in Baltimore City 
Development of Maryland's Social Vulnerability Opioid Index 
Spatial Analysis of Opioid Overdose Deaths in Illinois, 2013-2016  
Food Insecurity among the Southern 16 Counties in Illinois
Assessing the Effectiveness of Safety and Health Training Programs for Pre-Apprentices
Associations between social vulnerability, mammography, and breast cancer incidence and mortality: An epidemiological analysis of counties in the United States
Using GIS to Quantify the Rate of Diabetes in Southern Illinois
Assessing the Food Safety Knowledge and Attitudes of Students
About
Grantsmanship
July 2020
Using the Health Belief Model to Assess the Health Seeking Behaviors Associated with COVID-19 in Baltimore City 

($149, 000) 
Source: Maryland Department of Health
July 2019 
Maryland's Social Vulnerability Opioid Index

($227, 000)
Source: Maryland Department of Health