Event
University Convocation
---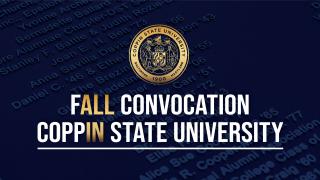 We welcome the entire campus community, and alumni, to join us as we embrace the pride and tradition that bind us together – past, present, and future.
All first-year students, including transfer students, and seniors will participate in the University Convocation ceremony Thursday, September 15, 2022, at 11 a.m, in the James Weldon Johnson Auditorium.
Convocation is a ceremony held, at the beginning of each fall semester, to commemorate the start of the academic year and welcome all incoming students to Coppin State University. Students, faculty, staff, and alumni will come together as a community to celebrate our newest Eagles and congratulate our seniors on their persistence toward graduation.