Event
Coppin Repertory Theatre Auditions
Sponsored by
Coppin Repertory Theatre
---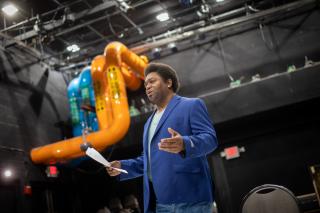 Open auditions for two spring semester plays at Coppin State University
Coppin Repertory Theatre will hold open auditions for their final two productions of the 2022-2023 theatre season—Pipeline by Dominique Morisseau (March) and Shakin' the Mess Outta Misery by Shay Youngblood (April). The tryouts will be held by appointment on Tuesday, December 13th from 7:00 to 9:00 p.m.
Roles are available for 11 African American women, 3 African American men, and 1 Caucasian female. Candidates should prepare one serious or comic monologue, not to exceed three minutes.
In Pipeline, a mother's hopes for her son clash with an educational system rigged against him. Nya, an inner-city public high school teacher, is committed to her students but desperate to give her only son Omari opportunities they will never have. Morisseau's play is a deeply moving story of a mother's fight to give her son a future—without turning her back on the community that made him who he is. Production dates are March 2-5, 2023 in the Theatre Lab. Professor Willie O. Jordan is the director.
The season finale is Shay Youngblood's inspirational and semi-autobiographical story, Shakin' the Mess Outta Misery, the story of a young Black girl's coming of age in the South in the 1960's. "Daughter," the main character and 25-year-old narrator, whose mother died when she was very young, was raised by women in the community, some blood-related, some not. She remembers how her 'Big Mamas' prepared her for womanhood and the lessons she learned about survival, healing, sisterhood, family, and faith. The message of Youngblood's play is clear—it takes a village to raise a child. Performance dates are April 27-30 and May 5-7, 2023. Professor Rashida Forman-Bey will direct.
Interested candidates should schedule an audition appointment.
For more information, call or email Dr. Garey A. Hyatt, program coordinator of the Visual & Performing Arts area at (410) 951-3369 or ghyatt@coppin.edu.