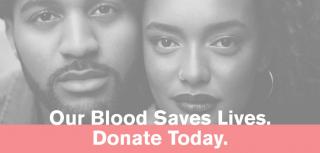 Give blood. Help save lives.
Please join us for a blood drive at Coppin State University on Wednesday, February 22, 2023 from 10:00 a.m. to 3:00 p.m. Please call 1-800-RED CROSS (1-800-733-2767) or visit RedCrossBlood.org and enter: coppinstate to schedule an appointment.
Streamline your donation experience and save up to 15 minutes by visiting RedCrossBlood.org/RapidPass to complete your pre-donation reading and health history questions on the day of your appointment. Be sure to screenshot or email your RapidPass® to yourself and have it ready to present to staff before exiting health history. Any RapidPass® completed before 12 a.m. on the day of donation will be invalid and the donor will be asked to complete the health history again on site.
Warm hearts. Warm thoughts. Give in February for a $10 Gift Card by email, thanks to Amazon. And, automatically be entered for a chance to win a trip for 2 to Clearwater Beach, FL. Includes travel, hotel, gift card and more! Terms: rcblood.org/heart.