Event
ALL "IN" Launch Celebration
Sponsored by
Institutional Advancement
---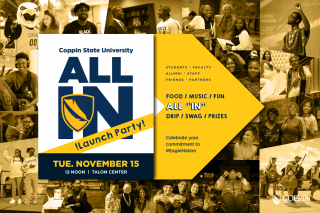 We invite all to celebrate the launch of the Coppin State University "IN" Campaign. 
Participate to receive your ALL "IN" swag 
Share your ALL "IN" reason (photos & video)
Enjoy food, music & fun!

Early in the Summer of 2022, Coppin State University embarked upon a journey to craft a campaign that embodied the spirit and sentiment felt by Eagle Nation and could transcend into an outward-facing message to potential students, partners, donors, and others. Through focus groups, listening sessions, and surveys, we listened and synthesized what was heard into a bridge campaign that builds upon activities of the past in a much greater capacity – this is where the 'IN' campaign was born.